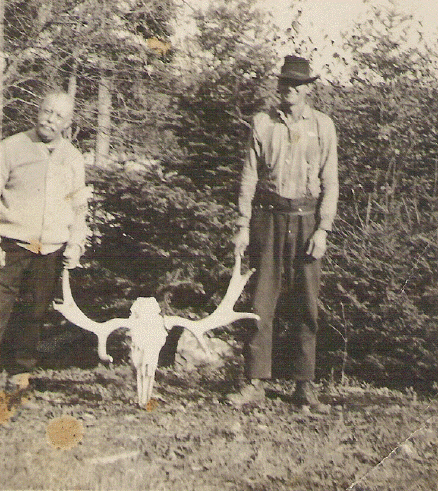 Chuck Austin (1912-1984) & "Big Lindsay" Vanderbeck (July 1878-Sept. 2), 1935
(Picture courtesy of Bill and Lois Hoff)
It was in 1932 that Jack and Chuck Austin had something of a dream when they entered the aviation business in Toronto in March 1934, as Capreol and Austin Air Services. Not too long after, this would change to Austin Airways. Linking northern communities from Sudbury to Hudson Bay was a large part of that dream. Thus they proved that a profitable shuttle service could run between Toronto and Sudbury. It was a dream that still carries a legacy in Northern Ontario.
Jack Austin and his older brother Chuck came from a successful lumber family in Renfrew, Ontario run by their two older brothers. In 1933 Jack and Chuck decided to take flying lessons while students at the University of Toronto. Using some of their inheritance money they started Austin Air Services in Toronto. The goal was to provide transport and passenger service, airplane sales, supplies, testing, instruction, etc.
In the early years they taught flying and many of their graduates went on to careers in WWII. The Austins even gave sight seeing flights for $5 each. They got furs and fish from isolated communities making these businesses viable. A depot in Nakina brought tons of sturgeon and caviar to lucrative markets.
The Austins bought two cabin biplanes, CF-AVL and CF-AVN Waco biplanes 70 years ago, and after a period moved to Ramsey Lake in Sudbury to provide better service to Northern Ontario. One of the aircraft arrived with a new feature - a removable panel on the port side behind the cabin facilitated the loading of a stretcher. This aircraft became Canada's first commercial air ambulance which allowed for many missions of mercy over the years. In the coming years it would make numerous trips with ill and injured northern passengers to hospitals in Sudbury and Toronto.
The classy looking Wacos caught the eye of well to do sportsmen interested in hunting and fishing. The Austins did well buying and selling planes along with hundreds of trips all over Northern Ontario including Hudson's Bay and James Bay.
The Noorduyn Norseman, on the other hand was completely designed and built in Canada. It was fast, roomy, comfortable and economical. It was capable of operating on wheels, skis or floats and carried 10 people. A tribute to its endurance is the fact so many are still flying today. The prototype was flown in November 1935.
Early on, mining personnel were the main clients of the new air service.
In the summer of 1935, Charles "Chuck" Austin moved to Sudbury when the Sudbury branch was formed and lived there for the 36 years.
Consequently, Lake Ramsey at Sudbury became their primary base in 1935 and remained so for 20 years. The 1936 season featured plenty of large forest fires in northeastern Ontario. Austins spent considerable time under contract to the Department of Lands and Forests.
Austins soon established bases at Chapleau, Gogama and Biscotasing, in addition to a summer base at Temagami. Early names that would become aviation legends in Northern Ontario included Phil Sauve, Jim Bell, Rusty Blakey, Jimmy Cairns, Frank Fisher, Frank Russell and Jeff Wyborn.
Like so many of Chuck's graduates he taught flying lessons to, that went on to careers in WWII; Chuck served in the Second World War in the RCAF and was named a wing Commander.
For his instructional ability with the Commonwealth Air Training Plan, Chuck was commended by the late King George VI awarding Chuck the oak leaf of service.
It is a delight for me to be able to share this photo with the readers of this website; a photo showing that "Big Lindsay" Vanderbeck and Chuck Austin had known each other.
It is noteworthy that the Austins moved to Ramsey Lake in Sudbury. Eventually Jim Vanderbeck, "Big Lindsay's" son lived in the Ramsey View Court area of Sudbury in his retirement years.
Chuck Austin died in 1984. Jim Vanderbeck died in 1988. Both Jim Vanderbeck "Big Lindsay's" son and Chuck Austin are buried in Parklawn Cemetery in Sudbury, Ontario. Most certainly, all three men are true legends of the north.